TIPS: All products are genuine, with real patents, counterfeits will be examined! Customers, please recognize our products!
✔ Shipping worldwide.
✔Payment by PayPal® and credit card.
✔Fast money back guarantee>> Partial or full refund subject to availability.
✔The more you buy, the more discounts you get.
-Will the earphones fall during exercise?




-Or are your earphones dirty because they are in your ears?




-Or did you know that traditional headphones can cause long-term hearing damage to your eardrums?
✅ Suitable for everyone, convenient for answering calls and watching TV.
✅ The wrap-around design makes it very light, flexible and can fit safely.
✅ Lightweight, it will not fall off even if you exercise vigorously, and you can move freely.
Customer Feedback Message:
"I have had these for over a month and ran the Brooklyn Half Marathon with them. They are great so that you can listen to music but still hear your surroundings. I purchased them to be able to hear cars and people and have conversations while I run and still hear music in the background. One of my favorite things is that there are lights on the back of the ear piece and it can blink or just stay on!"
——Janice Brown
Features:
Bone Conduction Technology: Now enjoy hours of music without damaging your earbuds. It features bone conduction technology that creates vibrations to transmit sound through the bones of your face (jawbones and cheekbones) directly to the inner ear. The wrap-around design makes it extremely lightweight, flexible and provides a custom and secure fit.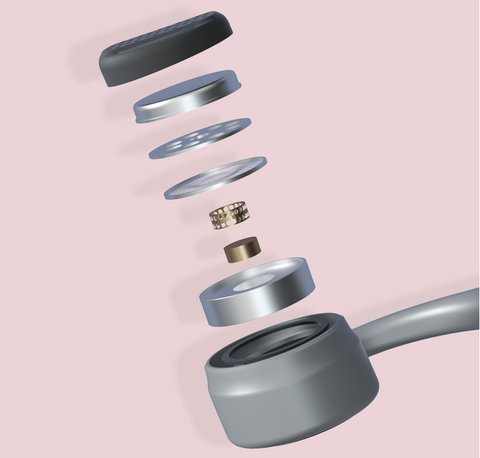 Work with Glasses: Easy to wear when you are wearing glasses. Getting high-quality wireless headphones with great sound and a built-in microphone is a dream come true for any person who wears eyeglasses. Now, This makes it!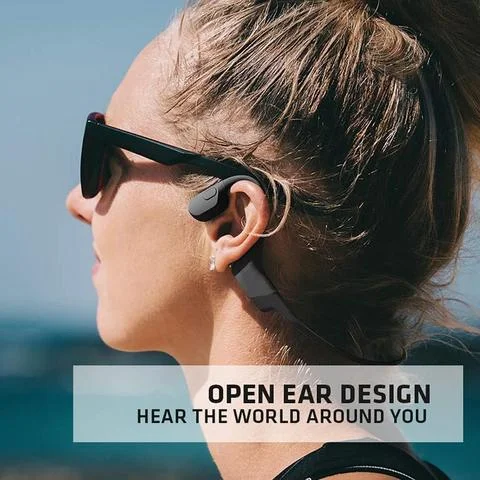 Unmatched Comfort and Stability: The ergonomic design provides ultimate comfort and makes sure that it stays put, no matter what. Whether you are doing an intense workout, hiking, running, climbing, skating, driving, or more and USB-powered makes it perfect for every situation.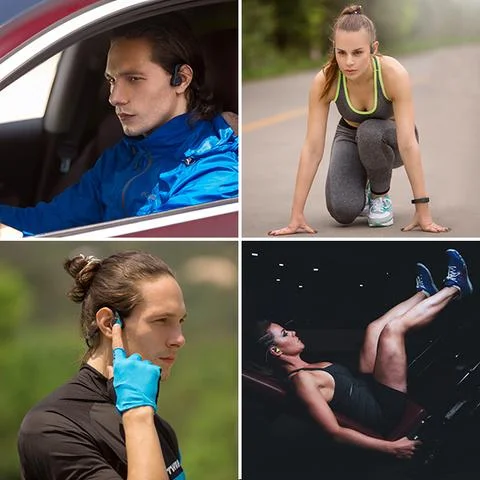 Bluetooth 5.0 Connection: Enjoy the hands-free experience. With up to 10m of range, you will never have to reach your device again and again. It effortlessly connects with smartphones, tablets, and other Bluetooth-enabled devices in no time.

Crystal Clear Calls: Never let any disturbance come into your way again. With advanced noise reduction microphone, it optimizes your call and reduces the background noise. up to 13 hours of continuous listening, earphones not in ears, comfortable, and no earache.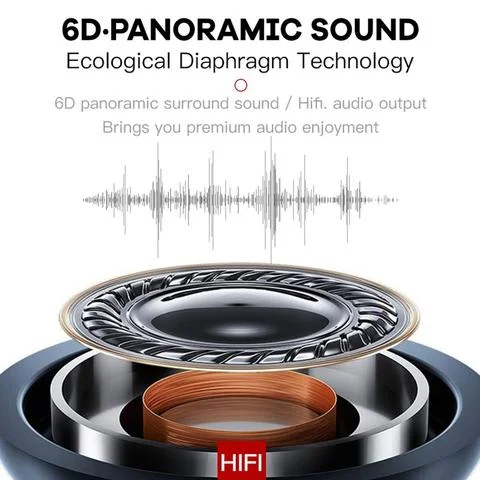 IPX 5 Waterproof & Sweatproof: Water-proof and sweat-proof can prevent sweat from damaging the components, they are firmly fixed in place during your exercise, even if you sweat a lot, it will not affect the helmet experience.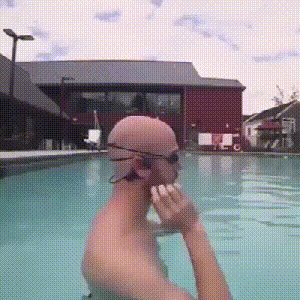 Easy to Control: With one-button control, you can easily adjust volume, change tracks, and easily switch between calls and music.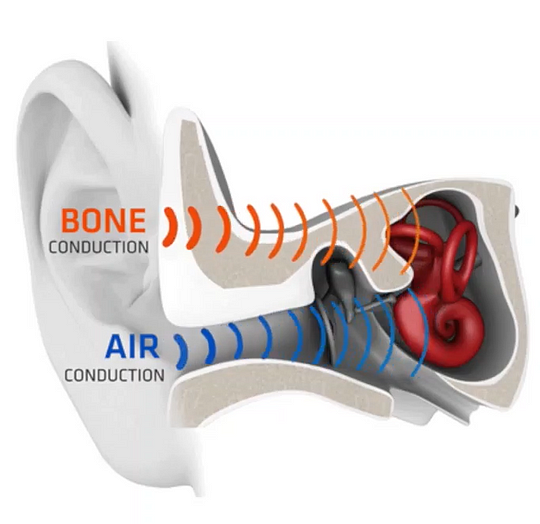 SPECIFICATIONS
Product Weight: 85g

Size(L*W*H):

18×13 ×3cm / 7.1 5.1×1.2inches
Battery Capacity: 180mAh
Bluetooth Range: 10m
Charge Duration: 2h
Package Contents: Bone Conduction Bluetooth Headphones *1
How we got our start
Bone conduction technology was introduced into the our company debut product line in 2011. For the first time ever, we had made the unique listening experience provided by bone conduction technology available to the general public.
What makes our product unique
We're disrupting the headphone industry with our innovative open-ear design and patented bone conduction technology. The result is a premium listening experience while your ears stay open to your surroundings for maximum situational awareness, safety, and connection.
Why we love what we do
Our team is on a mission to enhance lives through our technology. We work to bring you the best combination of performance and quality, continuously improving our products to deliver safety, comfort, and stability, while inspiring connectedness and impacting lives.
WORLDWIDE SHIPPING